OSHO Meditation Retreat at Daytona Beach, FL , February 2-5,2017
4th annual Daytona Beach retreat with Swami Anand Arun. A total of 40 Osho friends came for the celebrations with 5 people diving into neosannyas.
Glimpses of the retreat:
 OSHO Meditation Retreat with Swami Arun, July 14-17, 2016
This was the first ever Osho retreat in Miami and it was a beautiful weekend. There were about 35 participants and we had 8 friends for sannyas and mala celebration.
Glimpses of the retreat:
 Osho Enlightenment Day Celebration
"Enlightenment simply means an experience of your consciousness unclouded by thoughts, emotions, sentiments. When the consciousness is totally empty, there is something like an explosion, an atomic explosion. Your whole insight becomes full of a light which has no source and no cause. And once it has happened, it remains. It never leaves you for a single moment.." Osho, From discourse "The Last Testament Vol1,Chapter13 .
A total of 15 Osho lovers gathered at Osho Bodhisattva Meditation Center for 3 hours of celebration. We had kirtans, dancing, kundalini meditation, white robe celebration and ended the evening with a lovely Osho video. All friends returned home with a big smile and a dancing heart. The group picture sums it all up.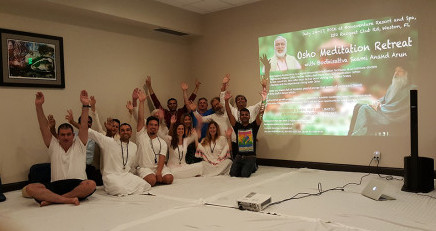 Osho Meditation Retreat with Swami Arun at Daytona, FL February 2016