We are delighted to welcome you to a 3-day residential meditation retreat with Swami Anand Arun. We have been inviting Swami Arun to conduct retreats in Florida every year since 2014, and every time he brings a fresh breeze of joy and bliss all the way from the Himalayas. Swamiji's depth of understanding of Osho meditations and Osho's message is truly remarkable, but it's his presence and his touch that transformed many. He calls it a blessing from his master Osho, and it will be this blessing, this energy shower that we will merge with and meditate in.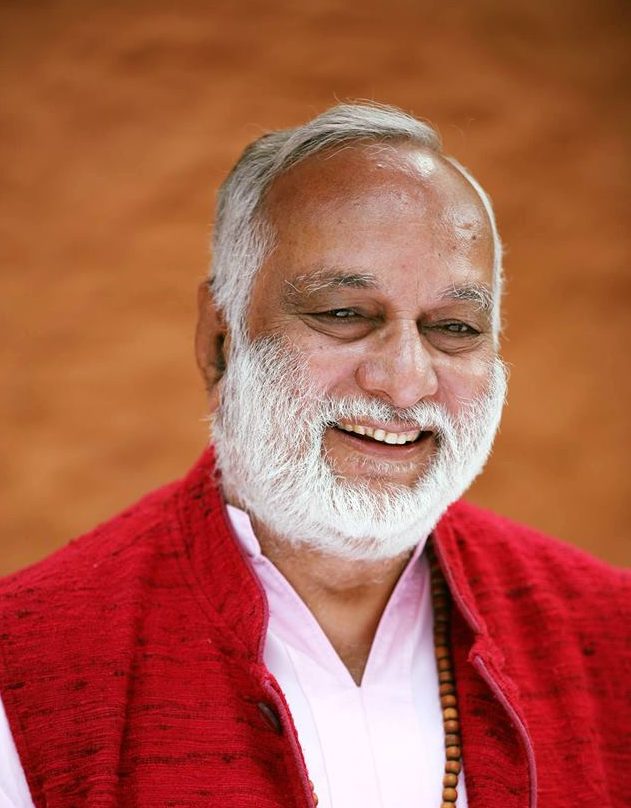 Bodhisattva Swami Arun is the founder and coordinator of Osho Tapoban – an international Osho commune and a Himalayan forest retreat in Nepal. He divides his time between nepal and twenty other countries of Europe, North America, Russia and Asia​, where he gives discourses and facilitates Osho meditation retreats regularly.
On March 29, 1969, when he was still a student of engineering, Swami Arun first met Osho. In the very first glimpse he realized his search for a master had come to an end. In 1974, he took initiation from Osho at Pune. After a few months of staying with his master, he was instructed to open an ashram in nepal and spread his vision. Today, he has initiated around a hundred thousand seekers from 90 different countries into Osho Neo-Sanyas. He actively mentors and guides six Osho communes and more than seventy-five meditation centers in Nepal, a commune in America and around a hundred and fifty Osho meditation centers in fifty different countries.
A meditation retreat with him is a wonderful growth opportunity for everyone interested in Osho meditations. He is the founder and coordinator of Osho Tapoban – an international Osho commune and a Himalayan forest retreat in Nepal.
Retreat Schedule:
February 22 – 24 
We are arriving to Daytona on Thursday, February 21st to get settled and will be starting meditations early next morning at 7am (Friday, February 22nd). Check out from the hotel is Sunday at 11 am, and the last most powerful meditation session-group prayer meditation will conclude the retreat before lunch. We will be leaving Daytona at around 2pm.
A more detailed retreat schedule will be provided upon arrival. It is recommended to participate in all 3 days of the retreat for a deeper experience, but you can also book just the weekend or visit daily.
Venue:
El Caribe Resort & Conference Center
2125 S Atlantic Ave,
Daytona Beach, FL 32118
How to Register?
Please fill the google form below:
https://goo.gl/forms/aiZLMcoziUkq4omI2
This meditation retreat is open to all seekers of all level of meditation experience. No prior meditation experience is required to attend this retreat.
Participation Fees (room, meals and all the meditations included):
REGISTRATION FOR THIS EVENT for residential stay CLOSES February 8th. IF YOU ARE PLANNING TO ATTEND AS A DAILY PARTICIPANT(without meals and room) REGISTRATION WILL BE OPEN UNTIL February 20th.
Single Room for 3 nights (Thursday, Friday & Saturday night) – $575
Double/Shared room per person for 3 nights – $425
Single room for 2 nights (Friday and Saturday) – $475
Double/Shared room per person for 2 nights – $375
Children can stay with their parents in a shared room with an extra cost of $10 per night, up to 3 people in total per room.
The price includes your stay in comfortable luxury rooms at the El Caribe Resort, all the vegan/vegetarian meals from Friday breakfast to Sunday lunch, and participation in all the meditation events.
Day participation with meals – $150 per day. You cannot bring your own food and eat at the dining hall with the group in this event; event host charges us a steep fine for violation should this occur.
Reservations will be guaranteed upon payment. Filling the registration form does NOT guarantee you a spot until you pay for participation. In case you can not attend the event there will be a full refund if you cancel 2 weeks before the start of the event.
Payment:
1. Easiest way is Paypal. Log in to your Paypal account and use strictly the "Send money to friends and family" option to avoid the 3% transaction fee. Send money to "Oshomiami@gmail.com". Very important: do not use the "pay for goods and services" option, or you will be charged 3% extra upon arrival (fees that Paypal charges us per transaction). Since this is a non-for-profit event, we cannot afford to waive the fee if you mistakenly choose the wrong option.
2.  If you don't use Paypal, send a personal check to
Osho Bodhisattva Corp.
12864 Biscayne Blvd. # 476,
North Miami, FL 33181
Please text us at 786-373-6746 after you mail your check. Make sure the check arrives before Feb 8th  to secure your reservation.
3.  The third option is to pay with a credit card. This will add 3% extra to your retreat cost, and we highly discourage this option unless absolutely unavoidable. Call or text us at 786-373-6746 if you decide to use the credit card option.
Our events are non-for-profit. Your participation fees will cover the cost of hosting Swamiji, his traveling expenses to & from Nepal,  domestic travel within the U.S. & his accommodations. Hence the prices are non-negotiable, we are providing the best we can.
Other important details:
Please feel free to bring your own yoga mat or a pillow if you have one. Seats with back support are available at the center.
Meditations involve sitting, dancing and lying down so it is suggested that you wear loose clothes and bring a shawl for silent sitting/lying.
Maroon robes are preferable but not compulsory, you can wear any red or maroon color comfortable clothes instead. You will need white color clothes or white robes for evening meditations.
There will be Osho books, robes, Osho posters, cds available for purchase at the venue, please bring some cash with you.
Since the event will be full of activities, it is suggested that you take plenty of rest before the event, shower in the morning and before the white robe and use fresh clothes daily. Try to maintain the discipline of sleeping around 7-8 hours during the retreat.
It is not advised to eat or drink while wearing white robe (symbol of purity) and is prohibited to bring food or drinks into the hall.
Please do not indulge in alcohol and refrain from animal products and caffeine during the retreat.
Please refrain from using cell phones in the hall during the event. If you need to make an urgent call please do so outside of the hall.
In consideration of people with sensitivities, please kindly refrain from using strong perfumes and other similar fragrances during the retreat.
Each session will be conducted at the allocated time according to daily schedule, please plan to be at the Meditation Hall 5-10 mins before the scheduled time.
Contact:
Feel free to contact us if you have any questions about this event.
Email: oshomiami@gmail.com or call/text: 786-373-6746.
---
Osho Florida Events: Weekly Meditations in Miami
Osho Bodhisattva Meditation Center invites all seekers to weekly meditation classes.
1. At Osho Bodhisattva Meditation Garden – For local friends at North Miami Beach and Hollywood, FL we have started to share our space at Osho Bodhisattva Meditation Garden on certain Wednesday evenings and hope to start every Wednesday evening very soon. Please go to our meetup for more details on this Wednesday evening meeting – www.meetup.com/oshogarden 
2. At Osho Information Center  – Various Osho Meditations &  Celebration every Sunday afternoon.
If you are beginning to meditate and haven't read Osho books or practiced Osho meditations we suggest you attend our Sunday group meditations. Group of friends at Osho Information Center meet every Sunday from 4pm to 7pm. The 3-4 hour session includes more than one Osho meditation, sharing, celebration and Osho discourse. We will have opportunity to do one of the 600 different Osho meditation techniques in a group.
Time- 4 pm to 7 pm
At Osho Information Center at 101 Ansin Blvd, Hallandale beach, FL 33009
To RSVP to these meetings visit our meet-up group – www.meetup.com/oshoflorida
3. At Urban Namaste – Certain Osho celebration days plus 21 days Dynamic once a year.
If you are in Ft Lauderdale and want to connect to Osho friends there, Nayano hosts a peaceful place for you. Visit the meetup – https://www.meetup.com/South-Florida-Osho-Cobra-Breath-Transformation/